Vetiver Grass best use is for erosion control and builds its own terraces as it catches sediments with debris, but it has many other uses!
Click here to see uses in picaso slide presentations
Vetiver not only holds moisture it protects plants next to it from many insects, alley farming banana trees next to vetiver makes them grow healthier and faster.
Besides forage for animals or the soil it can be used in composting. Vetiver compost has an amazing bacteria and soil building mulch releasing natural NPK into the soil. Vetiver cuttings can be used green in composting toilets for heating up the pile for faster decompostion, making great fertilizer for gardening. If it could be baled it could contain humanure compost piles. It also can be used loose to line wooden compost piles to contain and cover humanure for the thermophilic heating and keeping flies away.
Click here to see how it helps agriculture
Vetiver produces the most dry biomass per unit of time than any other plant on our planet!
Vetiver has the highest photosynthetic activity of any plant according to Dr. Massimo Maffei of the University of Turin Italy. Many other plants produce more tons per acre but contain 50% more moisture. Vetiver hay is easily dried in a few hours and can produce 70 to 80 tons per hectare of cellulsic biomass with adequate water and nutrients. Best of all is its easy grow and harvest 2 to 3 times per year.
One pound of dry vetiver grass delivers 7,000 BTU
One pound of high grade coal delivers 14,000 BTU
One pound of peroleum delivers 18,000 BTU
But vetiver grass is 1/3rd the cost per ton of BTU value than petroleum or propane gas!
Buying propane that comes from outside Haiti also drains the economy, using vetiver grass as fuel will also fuel the economy!
See more facts on vetiver for fuel, click here
Biochar; compacting vetiver into hockey puck sized briquets for cooking fuel
Click here to read more about it
Handicraft material; many Haitians already wear vetiver hats.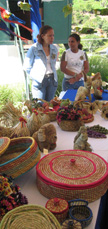 Thatch; can be used for homes, chicken coups and sheds
Essential oil from the roots is possible if grown near volcanic granite (mostly found near Les Cayes area) which gives it the distinct fragrances needed for extracting. Ground surrounding vetiver clumps must be protectedfrom the uprooting to save remaining soil for replanting.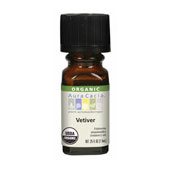 Click here to see how Vetiver can be planted for a cash crop sold especially for essential Oils as long it is planted correctly, it will not harm the environment.
UniKode S.A.
Master Distillers of Essential Oil in Haiti
Unikode S.A. near Les Cayes has implemented our permaculture cropping concept to save the soil they use for planting vetiver!
Bonsante experts discover Vetiver an incredible plant they can use to make affordable soap.
We know vetiver's capable of stopping erosion and cholera from spreading by keeping fecal matter behind hedgerows. Terraces created behind the hedgerows compost dirt with microorganisms that kill cholera in matter of hours keeping it from getting into more water supplies.
Watch this video for another reason to plant vetiver!
BonSante Venture! Revolutionizes Hygiene in Haiti from Tejas Sathe on Vimeo.