Making waist our greatest resource, The small scale production for Food, Fuel, Feed and Fertilizer by Dr. Paul Olivier, Jozef De Smet, Todd Hyman and Marc Pare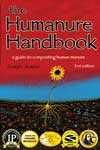 Humanure Handbook 3rd addition, buy or free download chapter at a time
Richard Higgins is the ecological and agricultural consultant to various groups including the NGO New Directions Foundation.
He is a world leading exponent in this field, liasing with the Rodale Institute (USA). He has recently set up a Centre of Excellence and teaching centre for disease and pest free growing technique and fast turn round manufacture of fertilizer in the United Kingdom; Well End Permaculture Ltd.,
He has designed and developed a compost Hot Box that destroys pathogens in 14 days and makes TERRA PRETA with BIO CHAR that works in conjunction with the worlds cheapest (and fool proof) urine separator toilet.
New Direction Foundation Click here
Thermophilic composting system
Password is ynos
Haiti Sanitation Solutions II from Richard Higgins on Vimeo.
Haiti Sanitation Solutions III from Richard Higgins on Vimeo.
Click here to see Rich's Thermophilic composting system Video
This is an email Haiti Reconstruction sent to Mr Higgins asking advice
His advice is CAPITALIZED
We really want to be making available a plan for every home in the countrysides of Haiti to have a family-composting toilet!
OK, THE HOWARD HIGGINS SYSTEM IS SUCH THAT IT WILL SUIT ANY FAMILY THAT HAS A GARDEN. IT IS THE CHEAPEST AND FASTEST PRODUCER OF FERTILIZER ON THE PLANET. YOU GET A SAFE AND USABLE MULCH FOR ANY CROPS IN 30 DAYS AND A FINELY DIVIDABLE TOP DRESSING OF TERRA PRETA IN 90 DAYS!
SOIL is promoting an Arborloo for families now but these are to be covered when full and plant a tree on. They really need the fertilizer for their gardens.
I KNOW EXACTLY THIS PROBLEM. MY SYSTEM IS MUCH MORE EFFICIENT IN TERMS OF FOOD PRODUCTION.IT IS SUCH AN EXCITING PROGRAM THAT PEOPLE WILL BE LINING UP TO LEARN THE SYSTEM. BOY DO I WANT TO GET BACK TO HAITI, I LOVE TEACHING THIS SCIENCE.
I am not sure if we can layer the compost as it is used with the thermophilic composting system?
YES, YOU DO LAYER THE COMPOST DAILY, THEN WHEN YOU HAVE A FULL LATRINE BUCKET YOU JUST TIP IT ONTO THE HEAP IN LINES SO THAT THE HEAP STAYS FLAT. THEN YOU IMMEDIATELY COVER OVER WITH MORE GRASS/STRAW OR SWEPT UP LEAVES.ALL SWEEPINGS FROM THE HOUSE SHOULD GO INTO THIS TYPE OF COMPOST AND WITHIN THE FIRST WEEK IT GETS VERY HOT (PATHOGEN KILL) IT MUST STAY THERE FOR 2 WEEKS COMPLETE FROM STARTING BUILDING TO FINISH. THEN YOU TURN IT. AND LEAVE IT FOR ANOTHER 2 WEEKS.THEN IT IS AT THE MULCH STAGE YOU MUST PUT IN EARTH TO COVER THE LATRINE BUCKET THAT YOU EMPTY!!!!! THIS IS VERY IMPORTANT. A TARP OR SHEETS OF TIN ARE GOOD TO COVER IF THERE IS RAIN COMING. AND ALSO TO KEEP THE MOISTURE IN... MUST BE ALWAYS 50% MOISTURE IN THE HEAP. SO USING THE SEPARATED URINE IS GREAT FOR THIS AS IT IS SO RICH IN NITROGEN!
THESE ARE THE INSTRUCTIONS ROUGHLY ON EMAIL. ONLY BUILD THE HEAP FOR ONE WEEK THEN STOP AND START ANOTHER BESIDE IT.CAUSE WHEN YOU HAVE TURNED THE FIRST HEAP YOU START ANOTHER IN IT'S PLACE. WHEN YOU TURN THE HEAP, TAKE SOME FUNGUS OUT AND PUT IT INTO THE NEXT HEAP WHILE BUILDING - THIS IS THE REAL SECRET WITH THERMOPHILIC COMPOSTING! IT WON'T WORK WITH SAW DUST (TOO MUCH CARBON) YOU MUST USE LEAVES AND GRASS OR WEEDS (CUT UP) AS SEEN IN THE FILM!
I have been studying about multiplying indegenus microrganizms, lactic acid bacteria and fish amino acids to innoculate sawdust or dead grass for composting agents to speed up process and cut smell.
YES I HAVE SEEN VIDEOS ON THIS BUT WITH THE HOWARD HIGGINS SYSTEM YOU WON'T NEED TO DO THIS EVERY HOUSE WITH A GARDEN CAN DO THIS EASILY WITHOUT ANY EXTRA LEARNING!
I though of one more question, when I compost here I find that fresh grass clippings heat up compost faster than anything? I do not have commercial fertilizer on the grass. In Haiti we are promoting vetiver grass for so many important reasons yet the only immediate use for the cuttings is fodder that is placed on the higher side of the hedgerow to compost. Do you think we could add a handfull of grass after each toilet use for initial layering in collection buckets for family toilet systems? YES, MIKE YOU ARE RIGHT, THAT VETIVER GRASS WILL BE AMAZING IF YOU CAN USE IT FOR THIS PURPOSE AS WELL.
IT IS MUCH BETTER TO PUT GRASS INTO THE TOILET THAN SAWDUST. SAWDUST IS INERT AND HAS VIRTUALLY NO MICROIAL LIFE IN IT. I PUT GRASS, SMALL LEAVES OR CHOPPED LEAVES DOWN.
ULTIMATELY THE VERY BEST TO PUT IN THE TOILET IS FINISHED COMPOST, AS THIS HAS THE MOST MICROBIAL LIFE IN IT.
AFTER EACH USE THEY SHOULD PUT A HANDFULL OF FINISHED COMPOST THAT STILL HAS MICROBIAL LIFE IN IT AND THEN A HANDFULL OF GRASS WHICH WILL START DECOMPOSING PROCESS AGAIN.
Can I show your videos I will connect it?
YES PLEASE DO!
DO YOU GET FUNDING FROM A MAJOR CHARITY? IF SO THEY WOULD PAY FOR ME TO COME THERE FOR SAY A 3 WEEK VISIT.?
MY URINE SEPARATOR TOILET IS THE CHEAPEST ON THE PLANET AND I CAN SHOW YOU HOW TO MAKE THEM WHEN I GET THERE.
SEE PICS OF THERMO BIN IN THE UK‏ ( top of page )