The problems of Haiti are very similar to America's problem. Watch this video and see the erosion and poor economy we had in the 1930s dust bowl. See how Franklin Roosevelt started the CCC Civilian Cnservation Corps!
Watch the full episode. See more American Experience.
Our click here to see uniterupted version on American Experience site
Click here to read this great article written by Mike Benge Create a Haitian Youth Corps.doc
We hope that the government will start a Haitian Civilian Conservation Corps. We believe this is the only way the entire country of Haiti will be able to survive in the long run.
They will never be able to feed themselves if they have no environment left to grow food on.
We believe there must be a program to employ core people for cash and others will work for food.
They will 1st have to train leaders to lead corps groups.
The best candidates for leaders are young peasant children with good grades as they have watched their parents grow food, but easily learn new methods and can educate others.
They must consult the communities and get them involved. Leaders must make them understand the positive results that will produce more food will take time. They must sell the projects qualities so the people will protect the vetiver rows and replant any missing slips if needed.
This corps would establish and care for nurseries to propagate vetiver and many various tree seedlings that will be used in hedgerows according to their environments and needs.
Corps groups will plant hedgerows following detailed plans on how to plant vetiver and what to plants to plant with it according to the average rainfall in the area.
Projects will include local peasants needs for food sources; gardening, fruit production or increasing animal production.
This is a general plan on how to plant Vetiver, other crops and trees will be added according to area.
Cultivers are to be planted no more than 15cm apart (5 inches)
the next 3 rows down the hill will be spaced 2 or maximum of 4 meters verticle.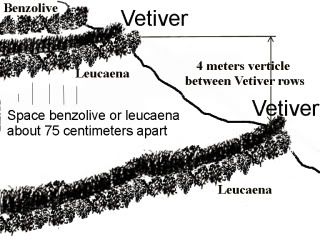 above the top row we want to plant benzolive seedlings as 1st diagram shows
below all 3 rows we want to plant leucaena as 2nd diagram shows.
between leucaena and vetiver they can plant whatever they like. but preferably after vetiver is growing to catch the soil.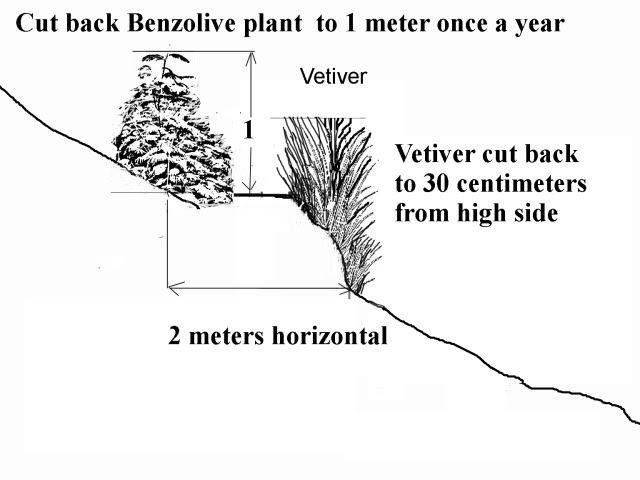 Click here to see quick way to start planting rows