Ovens can be fired from either Rocket or TLUD stoves
Here are many designs of ovens that are already being produced in the America's
The largest consumption of charcoal is used in baking bread. It would be wonderful if we could build the most efficient fired brick oven with rocket stove technology. Instead of having the fire in the actual oven it would be directly under it. The insulated chimney would open in the back of the oven and exit in the top front of the oven. The baking door must close tightly.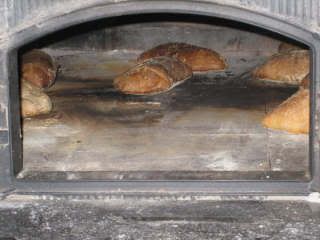 If we could build a community bakery oven can you imagine how many trees we will save if it is run by a cleaner burning rocket stoves that can produce temperatures of 1500 degrees Fahrenheit?
There's a great rocket oven design manual at:
http://www.rocketstove.org/images/stories/rocket%20baking%20oven%20manual%20november%202008.pdf
Haiti Reconstruction is planning on designing a stove that will boil water have a hot plate and an oven all fired from 1 TLUD stove.
This video shows a great way to construct on the ground then just raise it to desired level.
I want to design it with a hole for TLUD below boiling pot set into stove, next to this is a chamber that we can build an oven with a hotplate roof, back side stove pipe goes through roof.
Click here to see a very beautiful oven/heater/stove in traditional Russian style that could be easily turned into a rocket stove design.
There is a great discussion of high mass and low mass ovens as well as a low mass "Pizza Oven" design in Approvecho Research Center's
using a 30 gallon drum inside a 55 gallon drum with another split drum holding on a layer of insulation. This all sits on a rocket stove in a drum.