A Bamboo program is born
In the past four or five years, ORE has been pushing a program to introduce and mass-propagate high quality bamboo cultivars suitable for building and handicrafts. Improved bamboo varieties are one of the most suitable plant materials to combat the current exponential increase in hillside soil erosion, particularly for the control of ravines, and provide a renewable supply of material for commercial use. They are also a viable substitute for the local building industry's insatiable demand for post wood – a major cause of deforestation in the country. In 1999, Partners of the Americas and the Peace Corps in Haiti helped organize the assistance of a bamboo expert from Hawaii who made several trips to Haiti to provide training and help us get started. He brought twelve selected varieties generously donated by the Quindembo Nursery in Hawaii, adding to the collection previously introduced by ORE from Puerto Rico and Florida. The 12 new varieties were established at a propagation site in Camp Perrin. Propagation by root division and branch cuttings under mist spray have been used to increase the initial stock of 150 to over 12,000 plants. These fast-growing varieties quickly offer protection against soil erosion in ravines and on denuded hillsides, and improve the ecological conditions of watersheds, protecting the environment as well as supplying useful materials for the local population.

Vetiver is the best solution to start stopping erosion, but Bamboo is fast growing and can fill the needs of Haiti's reforestation, firewood, gutters, building, and craft materials at the same time it stops erosion!
Click here to see why we should plant bamboo
Get bamboo from ORE in Haiti, click here
Click here to see Guidelines for Planting Bamboo By Bernard N. Kigomo
Click here to see HUMANITARIAN BAMBOO A manual on the humanitarian use of bamboo in Indonesia
This manual comprises four sections:
• Section A introduces bamboo and bamboo construction, including important considerations when deciding whether to use bamboo in humanitarian programming.
• Section B outlines issues related to sourcing bamboo, including crop management, harvesting, treatment and procurement.
• Section C looks at building with bamboo, including design, construction and maintenance considerations.
• Section D provides a list of additional resources.
The steepest washed out gullies is a perfect place to plant bamboo!
The root system of bamboo will hold back a lot of the erosion, although some silt will pass by steep areas and at times bamboo will tip over and cause erosion. When the land levels out somewhat below the gullies vetiver hedgerows should be planted to hold back remaining silt.
Bamboo is also the best wood source for strong housing that can withstand both hurricanes and earthquakes!
It is the cheapest and strongest frame available for housing!
Humanitarian Bamboo
Haitians are being trained in Delmas on how to build bamboo dome homes as a business!
It is actually a grass not a tree and this makes it the perfect compliment for vetiver grass where they meet in the steep ravines.
Its fast growth is what is needed both for erosion and a wood source!
Bamboo preservation
Bamboo cutting instructions click here
wall and ceiling panels with split bamboo (like banana leaf mats only tougher)
Fundamentals of the design on bamboo structures A more complex pdf for structural strength
Really degraded soils may need special treatment to bring back. These areas are still good for grazing goats.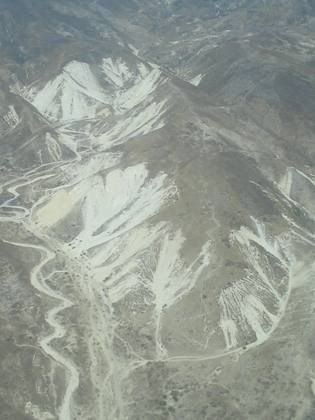 There are situations where slopes are so steep, where rainfall is so intense, and where the soils are so fragile that applying the Vetiver System by itself will not work. There are many such instances, and many occur in urban areas where very poor people reside. This is the case in the DR Congo and Congo Brazzaville. Over the last few years Roley Noffke of Hydromulch, South Africa and his associate Alain Ndona of Kinsasha have been stabilizing massive urban gullys using earthfilled bags that are pinned together with Vetiver. The bags provide protection and support for vetiver to establish, and after a while the bags disintegrate leaving vetiver to hold the slope together.
There are many other counties where similar problems occur, and this is probably the least costly and most effective way of doing so. Here follow some images. The top two show the before situation. the next three show the earthfilled bags and the vetiver layout, then an image from an older site showing the gully bottom stabilized with vetiver planted bags, and the last a reminder of the "nail" that is used.
With Haiti in the spotlight, this method could be used for extreme situations in that country. And by the way I remember when I worked in Eastern Nigeria in the 1970s urban gullies such as these. Dick Grimshaw