Bamboo can be used for firewood or for charcoal production. It has the same heat content as wood on a weight basis. Harvesting of mature culms can begin a few years after establishment. It is easy to cut, split, and dry. Since it produces multiple culms, harvesting individual culms does not kill the clump or disrupt the roots. As a grass it benefits from nitrogen. Every schoolyard should have a clump irrigated with urine from nearby urinals and urine separating toilets.
INBAR, the International Network for Bamboo and Rattan has a project in Ghana and Ethiopia being funded by the European Union:
http://bioenergy.inbar.int/wiki/index.php/Bamboo_as_sustainable_biomass_energy:_A_suitable_alternative_for_firewood_and_charcoal_production_in_Africa
The first newsletter of the project is available at:
http://bioenergy.inbar.int/wiki/images/0/0c/Newsletter_18_Jan_20103.pdf
There is an excellent manual Guidelines for Growing Bamboo
More on Bamboo for gully protection and links to bamboo uses
It looks like one of the best bamboos for fuel may be:
Dendrocalamus strictus (Male Bamboo)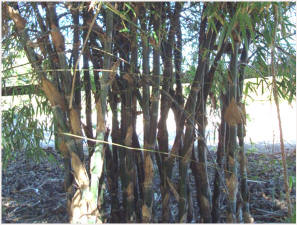 Origin: India. This species grows in a very tight clump, up to 45 feet with a 2.5 – 3 inch diameter. D. strictus is a very popular structural bamboo in India (it covers over 50% of all bamboo grown there), and it is also used for pulp/paper production. It can be grown under dry and wet condition, in a variety of soils but it does require good drainage. D. strictus is often planted to reclaim ravine land in India. Its culms are almost solid and thus very strong. Its tensile strength is close to that of mild steel. Besides used in construction (where it is also becoming increasingly used to reinforce concrete), it is also used for furniture and musical instruments. The young shoots are edible, and a decoction of the leaves and nodes is used for medicinal purpose.
from: http://organicfarm.net/bamboo.htm